Budget Instantly with Payday Divvy™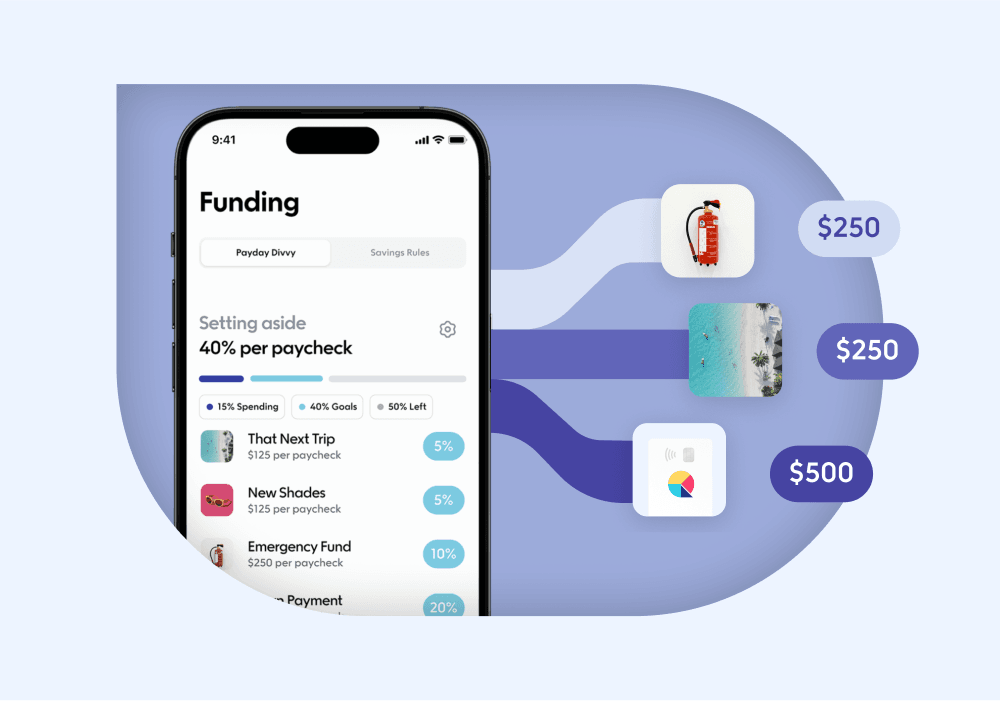 Automation has always been core to what we do. We started by helping members save toward their financial goals effortlessly. After more than 100,000 five-star reviews and over $3 billion saved to date, we knew we were on to something.
Qapital® Payday Divvy™ takes our "set and forget" approach beyond saving, and makes budgeting a no-brainer, too.
How does Payday Divvy work?
Automatically, every payday. Tell us how often you get paid and how you'd like to divide your income, then set it and forget it. It takes just a few minutes to get started, and you can pause or make changes anytime.
What can I use Payday Divvy for?
Payday Divvy helps you get your $$$$ together. More specifically, it automatically sets money aside for savings, investments, and spending when you get paid. You decide how much moves to your Qapital goals, and the rest of your paycheck stays in your linked bank account.
What is the right amount to set aside with Payday Divvy?
The amount to set aside will be unique to you, depending on your short-term goals, long-term investment strategies, recurring expenses, and bills. Start with a comfortable amount that you know you can afford. You can always adjust it later.
Ready to try Payday Divvy?
Download the Qapital app, if you haven't already, and give it a go. It takes just a few minutes to get started.
Qapital, LLC is not a bank; banking services provided by Lincoln Savings Bank, Member FDIC, and other partner banks. Advisory services provided by Qapital Invest, LLC, an SEC-registered investment advisor. The information provided herein is for informational and general educational purposes only and is not investment or financial advice. Copyright © 2023 Qapital, LLC - All rights reserved.
Share